The Preferred Prison Entertainment Magazine
We started Prisonworld Magazine in 2007 hoping to bring new and different ideas to the multimedia game as well as enlighten views and perceptions of an uninformed and forgotten society. We publish Prisonworld Magazine on a six issue per year basis in order to communicate with those behind the wall. The magazine prints with 20 FULL COLOR pages, similar to Mad Magazine, in a 8 1/2 x 11 format. The May/June 2013 Issue was the last printed issue before our hiatus. We are now back, in 2015, to our regular bi-monthly schedule starting with the July/August Issue. There are FREE downloads of The Best of Prisonworld, Volumes I-II (covering the years of print from 2007 - 2008, 40 pages each, our humble beginnings) of our six printed years of magazines. If you missed an issue, you will not want to miss the recap. Yearly subscriptions for 2015 will be available on Amazon. Included in our magazine is the Prisonworld Parole Resource Directory. We offer an abundance of information to help offenders re-enter society and not use the system as a revolving door. We also offer other RESOURCES, celebrity addresses, book reviews, contests and much more. Please visit Prisonworld Blogtalk where we continue to offer this information as well as post the latest in prison news and you can comment on a variety of topics. And be sure to check out our weekly radio show, The Prisonworld Radio Hour.
Prisonworld Magazine
You Can Order Single Issues Here!
We are excited to be back in Print! Prisonworld Magazine is now shipping again to prisons! The inmates are very excited as we have found that we have been sorely missed. We appreciate all of the phones calls, letters and emails expressing the sentiments felt during our two year hiatus. We are back stronger than ever. You can order single issues below. Don't miss an issue!!!  
FEN-Book-cover on rufus and jenny triplett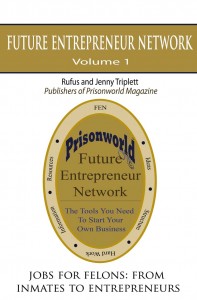 Prisonworld
To The World You May Be Just One Person, But tO One Person You May Be The World!
Prisonworld Greatest Hits
Donate to Gift a Subscription to Inmates
Celebrating 10 years in Print!
Donate a Subscription To an Inmate for $25 or Purchase a Single Issue for $5
Educational Courses for Writers!
Educational How To Sudio Workshops
Audio CD + Workbook to help you get started with writing a book.